A new commandline tool to decode Sphinx inventories.
What's it about?
This post is about a commandline tool that converts Sphinx inventories (objects.inv) into something human readable.
The Intersphinx mechanism uses an 'objects.inv' inventory which usually resides in the root folder of a documentation project. Unfortunately it's not directly readable by humans.
Available on docs.typo3.org
Note: A note for those TYPO3 insiders that have access to the docs server srv123: It's installed there and can be run from the commandline.
Minimal help is displayed if parameters or options don't fit:

Use option –help for more help: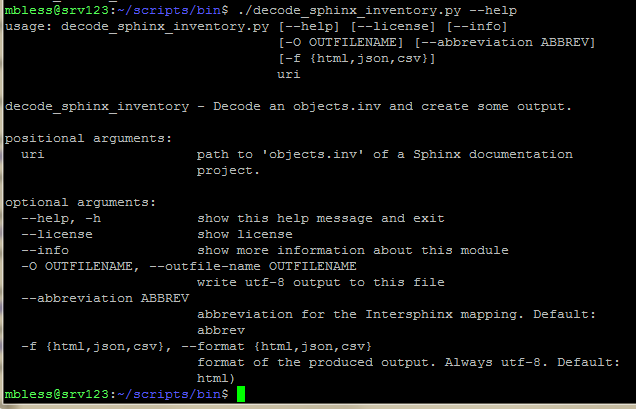 -- info explains a bit more: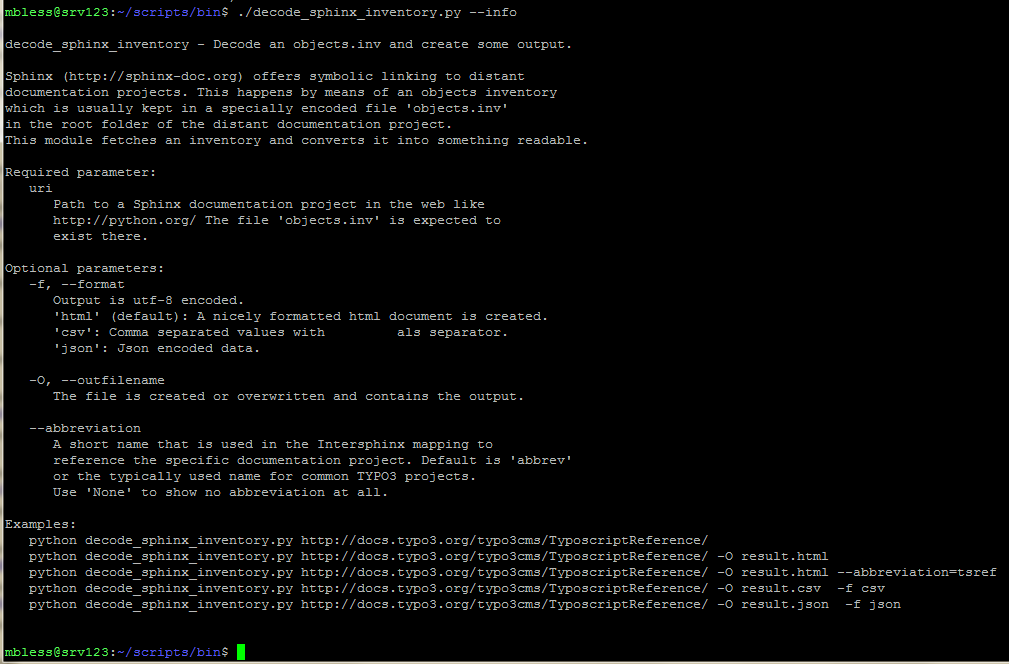 Example usage in the TYPO3 domain
Link to the API
For example: How exactly do you link to the http://api.typo3.org? Run:
$ python decode_sphinx_inventory.py http://typo3.org/api/typo3cms/ -O targets_api62.html

BTW, as labels are case insensitive here, it would be nice if the labels looked like
:ref:

`t3api:TYPO3\CMS\Install\Controller\Action\Ajax\CoreUpdateVerifyChecksum`



instead of
:ref:

`t3api:typo3\cms\install\controller\action\ajax\coreupdateverifychecksum`



Thinking
Hhm, addressing specifically the TYPO3 community: Shouldn't we place a human readable version next to our objects.inv files right away?
Excourse: How to generate the inventory
About generation of objects.inv for the TYPO3 API:
Xavier Perseguers says:
So you need to run doxygen with an xml output (as described) and then you have the PHP code for the objects.inv file.